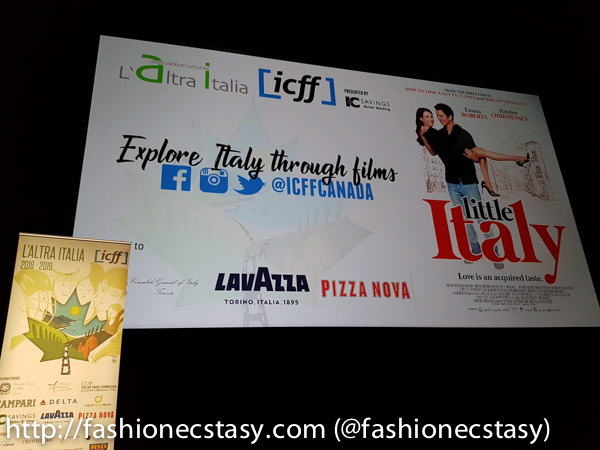 L'Altra Italia & ICFF Little Italy Film Screening Reception
L'Altra Italia  Reception at the Orchid Club and Italian Film Little Italy Screening at TIFF Lightbox, Toronto
(photos by Sally)
On Friday, October 26, the Orchid Club on Peter Street in Toronto was filled with Italian movie lovers from members of the ICFF ( Italian Contemporary Film Festival) film club! The Orchid Club, located a block away from TIFF Lightbox, is a comfortable venue suitable for a crowd with a central space to serve a buffet. Guests were offered a buffet dinner of pasta, veal, green salad and a bean medley from The Culinary Studio. For those interested in learning about Italian cooking, Culinary Studio offers a variety of Italian cooking lessons and delicious Italian cuisine.
Guests also snatched up slices of pizza from Pizza Nova. A glass of red or white wine and water accompanied the meal. All this was followed by smooth espresso coffee by Lavazza and scrumptious Italian cookies from Tre Mari Bakery. Later in the cinema at TIFF Lightbox, it was mentioned that Canadians had over 30 million cups of Lavazza coffee last year! Of which several hundred cups of the delicious espresso were enjoyed on October 26! The evening was presented by Lavazza, Pizza Nova and the Consulate General of Italy in Toronto.
It was a chilly but lovely evening for walking the block to TIFF Lightbox where the L'Altra Italia film was screening.
Before the film screening, Cristiano de Florentiis (co-founder and artistic director) and Maurizio Magnifico (co-founder and managing director), unveiled the new L'Altra Italia poster for the 2018 – 2019 season to promote the 16th season of which the Italian Contemporary Film Festival (ICFF) is part. Mara Cataldi, Director of Operations, also joined them in the presentation before the film. L'Altra Italia not only includes movies but it's a cultural association with Italian cooking events, theatre, conferences, and concerts. The L'Altra Italia poster depicts a Maple leaf with scenic views of travels from Italy to Canada – showing the connection between the two countries.
The film Little Italy is directed by Donald Petrie, who is known for his comedy films How to Lose a Guy in 10 Days, Miss Congeniality and Mystic Pizza.
Emma Roberts, Actress Julia Robert's niece, plays Nikki and Hayden Christensen is Leo. They star in this romantic comedy, Little Italy – Love is an acquired taste.
The film is in English with occasional words in Italian for Italian film lovers. To add to the Canadian content, we hear Canadian singer Shawn Mendes' song! Filmed on College Street, film viewers get a real feel of what life is like as a member of the Little Italy community. Other scenes take place on the cobbled streets of the Distillery set up with crowds of people and action, showing the big LOVE sign on the brick wall of a building. It's exciting for those who know Toronto to see the city's neighborhoods on the big screen.
Both families in the film Little Italy own Pizzerias – so lots of pizza is seen and eaten throughout the movie! Danny Aiello and Andrea Martin star as two of their widowed grandparents who also fall in love. Leo and Nikki are childhood friends from Little Italy, Toronto, whose parents have been feuding for years – like a Romeo and Juliet scenario. Nikki returns to Toronto from her culinary course in England to discover love with Leo, her childhood friend.
Little Italy is a fun, action-packed romantic comedy with a happy ending and the screening was a delightful L'Altra Italia evening of cuisine and cinema.

Collaborations or become one of us(邀稿、合作、或加入「時尚高潮的團隊):
賴 (Line)ID:
Tinkeebellezza
( 沒有 @,"T"大寫,要傳訊息才看的到哦!) Line App ID: Tinkeebellezza ( Capital "T," without @, please send us a message, so we don't miss you!)
 https://line.me/ti/p/Riv8JfyrwU
Email: fashionecstasytv@gmail.com 電話/ WhatsApp: (+886) 958771010
追蹤&按讚 / Connect with us:
FB (Facebook):
http://www.facebook.com/fashionecsta
追蹤:
@FashionEcstasy
( I G、 推特) follow:
FashionEcstasy
(Instagram & Twitter) 還有:
@Tanya.fashionecstasy
(IG)
@HsuTanya
(Twitter) Also:
@Tanya.fashionecstasy
(Instagram) &
@HsuTanya
(Twitter) Youtube YT訂閱 /  Please subscribe to our Youtube channel:
https://www.youtube.com/user/FashionEcstasydotcom?sub_confirmation=1