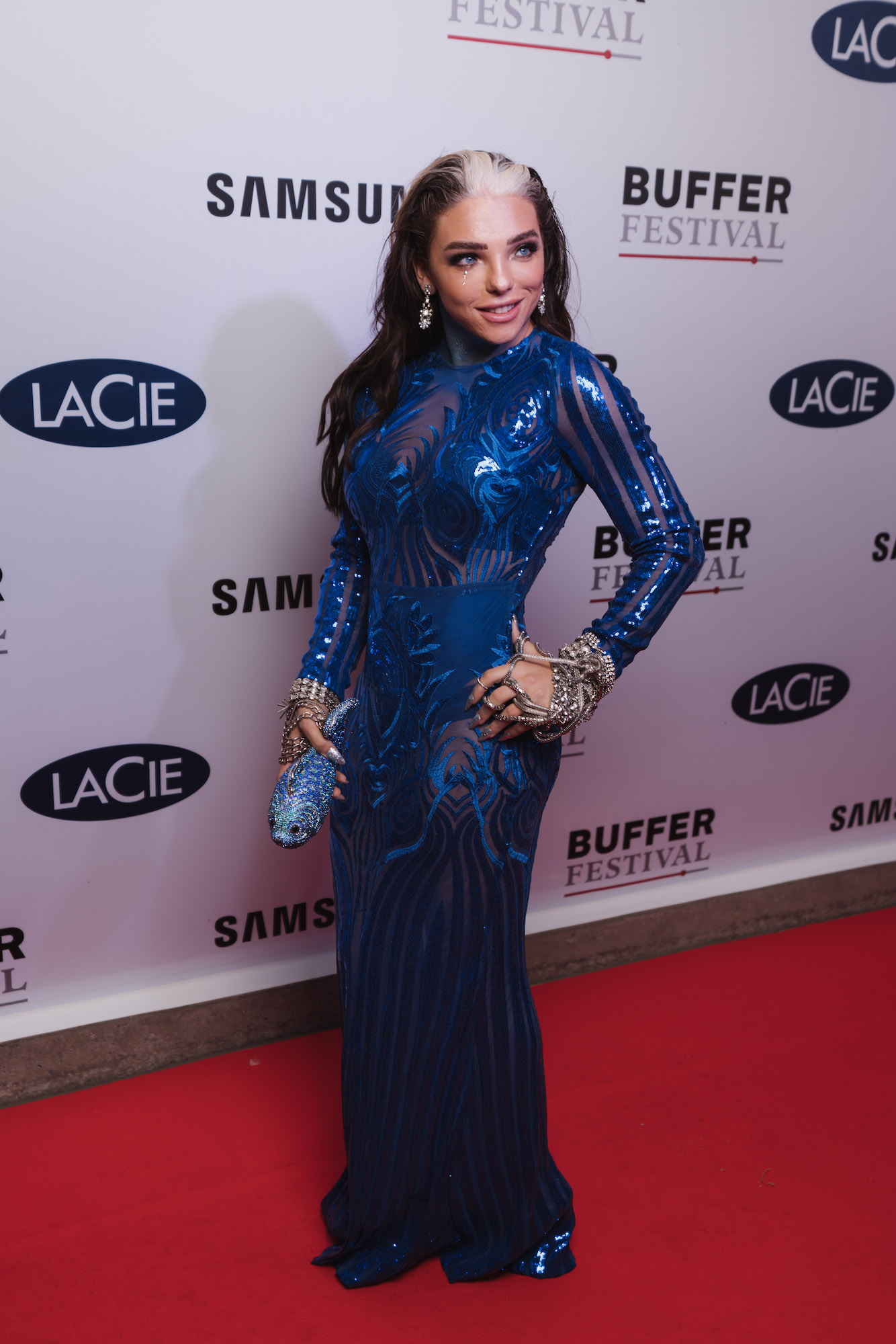 BUFFER FESTIVAL 2018 Toronto: LGBTQ & Sexuality
中文版點下面連結(Click here for Chinese version):
From September 27-30, Buffer Festival 2018 came back to Toronto in its 6th edition bringing established creators from YouTube premiering content featuring theatrical screenings, red carpets, industry and creator education, and the 2018 Buffer Festival Awards Gala.
Watch our video:
Starting things off at Glenn Gould Studio, Buffer Festival 2018 presented its new structured platform to bring insights you can't get elsewhere also known as INSIGHT SERIES. Partnering with Samsung and Walmart, It brings together established YouTubers, aspiring creators, and executives discussing how to elevate and educate the world of online video and it's communities.
Held at the St. Lawrence Centre For The Arts, fans and creators alike were able to interact in Q & As, meet and greets at the red carpet after each screening. Also, opened to the public and free for all attendees were the Creator Day, an exclusive Masterclass workshop for aspiring creators.
INTERVIEW WITH THE CREATORS
It's always fun when we get to talk with the creators as they share their thought process in making their videos. We had the chance to ask them what was the most memorable moments they've experienced at the event and if they could describe Buffer Festival with an emoji, what would it be. Here is what they had to say:
yup yup yup these are my people.
Our first guest, queer activist Gabby Dunn came in with her purple suit designed by her girlfriend,  says when interacting with her fans it wasn't too hard to spot since most of them look similar.
"They have really cool hair, really cool outfits, and Harry Potter Pins… They all, they almost all have nose rings so when I see them I'm like yup yup yup these are my people."
"Toronto has been incredible. This is my first time here, what a great city. "Oh my god, it's so lovely…"
"I asked my fans what I should do, so I just like went to all this insider stuff which was very nice… and whatever restaurants they recommended I went to."
And when asked if she could describe Buffer Festival by just using emojis she says, "I went to the aquarium so I will do the squid emoji 🦑 and the wizard emoji 🧙‍♂️because I went to the Harry Potter Bar, and then the heart eyes emoji 😍 for everybody's work."
Shipwrecked Comedy
'one can never forget a hand hug'
I was stoked when we got to interview ShipWrecked Comedy again, and that they remembered me after they said 'one can never forget a hand hug' after our encounter last year. Since they premiered their latest short, "American Whoopee," I asked them what their favorite pop culture movie was growing up and how did that influence making their silent film.
Sinéad Persaud answered, "Heatherness, the one we did on homage to."
"Clueless would be mine, I'm huge Jane Austin Fan," said Mary Kate Wiles.
"One that did not make it in the film would be Back to the Future," added Sean Persaud.
"…And Breakfast Club," said Sarah Grace Hart.
When I asked what the most memorable part of this filmmaking process was, they said, "not using sound makes everything go much quicker."
"That's our tip for aspiring filmmakers who do silent films. We like trying different styles. Last year we did film noir. This year we wanted to do a silent film. We just like trying it all. It's pretty fun," said Wiles.
Their response to how they would describe Buffer Festival using emojis:
The dancing lady,💃 heart eyes 😍, donut 🍩, hugs emoji 🤗, glass of wine 🍷, and the maple leaf 🍁
Wong Fu Productions
"So just us educating ourselves about the community and finding people within that community to open up their voice to our script was a huge learning experience. "
I was really looking forward to interviewing this group here for the first time, and I say it was a pleasure getting to talk to them; it's Wong Fu Productions. Coming towards the end of the festival and reflecting back this is what they had to say:
"The focus on the content and getting the creators to talk and mingle and network with each other it has been really fulfilling and very different compared to other festivals we've been at."
"A good balance of exploring the city, encouraging us to see the most that we can while we are here. It's been really nice," said Wesley Chan
"I really love that Buffer puts such an emphasis on content creators and storytellers and people who are here who have a message to speak. It's cool because I think there is a stigma against Youtubers you know. Not just Internet people, but the Internet is such a powerful tool nowadays. I think a lot of these, every single of these creators, are using it for something amazing," said Alice Tsui who starred in Wong Fu Productions new short, Vantage Points.
"Learning experience, it's actually our first short that has LGBTQ characters at the center of the story. "
"So just us educating ourselves about the community and finding people within that community to open up their voice to our script was a huge learning experience. We gained a lot from it."
Also, their response to what emojis they would use for Buffer Festival can be described as "the flame emoji 🔥,because this was lit, son!" says Taylor.
Alice adds, "For me, it would be the one with the blue face 😱 because this whole experience has been so surreal."
Thinking about his answer Wesley says, "Hmmm… 💯. 100%… 100% Buffered!"
Alayna Fender
"I had a viewer at the red carpet who was just breaking down in tears talking about how this person was questioning their own sexuality, and resonating and hearing those other stories helped her to see some of it in herself that she didn't recognize before."
When asked what her most memorable response from a viewer, she said, "I had a viewer at the red carpet who was just breaking down in tears talking about how this person was questioning their own sexuality, and resonating and hearing those other stories helped her to see some of it in herself that she didn't recognize before."
"This is the thing, being bisexual means so many different things. There's not just one definition."
"I think at this point and time, we hear only one definition. We think it looks like one thing and if you're questioning your own sexuality, but you don't fit that one label, it's just a question mark."
Her answer to what emoji she would use to describe Buffer Festival was
"Two glasses of champagne clinking because it all feels very fancy and exciting." 🥂
Also the best piece of advice she has:
"If I'm asking myself to do something uncomfortable or something that makes me nervous, like maybe posting a video, or face a fear, I ask myself would I feel uncomfortable if someone else did this. If someone I look up to post something like this video, would I think that they shouldn't post it? The answer is no. Then I ask myself why I am holding myself to these different standards."
Hannah Witton
"The video I showed a roundtable discussion about disability and sex and relationships. My background is in sex education and now recently with everything like the disability area too. I previewed a 10-minute edit and what's going on my channel is a whole hour."
"The feedback I got from a lot of people was how excited they are to watch the full hour, and that's amazing to hear. The discussion that they saw on screen was interesting, and it was thought-provoking, and often it was educational enough to want to know, I need to learn more, and they're excited to see the full hour."
When it came to her description of Buffer Festival or Canada using emojis, Witton described Canada with hugs 🤗 and autumn brown leaves. 🍂
Justin Gerhard
it's the umbrella for LGBTQ. It's kind of a word that is already back, but we're trying to bring back more."
Accompanied by the man behind the scenes, who directed the short film, "Searching for Love," is Ed Fritz. Both complimented in their red and blue tuxedos, Gerhard says, "he's the other half of this whole outfit."
After showing their film at Buffer Festival, Fritz says that he feels relieved. "It's my first time here; first film here. Justin has filmed before with our previous channel… We put a lot into this film."
Justin adds, "It's a busy time of year and we put a lot into finishing for this and knew this would be our first unveiling of the channel (Queer Network) on a bigger platform like Buffer Festival so we're really nervous but really excited. "People got how relatable it was. Clearly, the story was about a gay man and his experiences dating and being single but most of the responses from women on the red carpet were like 'I've also been there and that's the part where we loved how it spoke to anybody."
When asked if he can describe Buffer Festival with an emoji he said, "Oh! The clapping hands 👏👏👏… because creators are the most critical of ourselves. Because we are the creators, I think we're so critical of each other, and all of our work, and I don't mean this as a bad thing as the eye roll one.🙄 It could mean a lot of different things. To me, that can sometimes mean 'oh my god! I know what you mean' or, it could be like 'oh my god! That wasn't very good. Not in a negative way, we're challenging each other to always to do better, the work that we show you see something fabulous you'll be like I might be able to do that too."
"I would pick after that is the winking one,😉" added Fritz.
"Just because it's like we get it. You know, we get what you're doing. That's the whole idea of The Queer Network. It's to appeal to a wide range of people. It's just as Justin described, it's the umbrella for LGBTQ+++++. It's kind of a word that is already back, but we're trying to bring back more."
Anna Akana
"you're all doing it because of this deep need to express yourself."

"Canada is dope!"
What better way to wrap up our interviews with the lovely Anna Akana? When asked about her most memorable part about the Buffer Festival, she explains,
"Honestly, I love that it's more about what we're making rather than who we are. Like, a lot of these events are focused around fan meet and greets which I love, and it's super great to meet people who appreciate your work, but it's more about you being a personality than it is a filmmaker. So Buffer Festival is really validating us as a person who creates content, than 'Hey! It's about the content. This is a time to celebrate that you make stuff and that you're surrounded by people who make stuff, and you're all doing it because of this deep need to express yourself."
And finally, we asked if she were to describe Buffer Festival and her experience in Toronto just using emojis her response was…
"Oh man, black heart ♥︎. Canada is dope! I feel like when America goes to shit, I'm going to have to come here. Because it's going to be the only safe haven… Land of the free now!"
And because she has cats I had to mention the fact that when her cat's destroyed her stop-motion set during the filming process, you can say my delivery it was a "CAT-astrophe." The film ended up being great. It was "purrrrrrfect."
Also, we got to chat and connect with Monica Gold about Find Your Fierce and what a fantastic experience it was dancing for a couple of her shows. It was her first time showcasing her video at Buffer Festival and really inspiring to see someone in the dance community make it here.
Also, we met a magician, RAYN who demonstrated some mind-blowing tricks in front of us during the red carpet events after the screenings. Like how to transform blowing a kiss into a Hershey's Kiss coming out of a card. Definitely a moment worth mentioning and I'm still scratching my head.
Buffer Festival Awards Winners
Anna Akana's "dolor" -Excellence in Production presented by LaCie.
Adrian Bliss' "Finding Yourself with Adrian Bliss" – Excellence in Performance presented by Henry's.
Jon Cozart 's "Coming Out" – Excellence in Writing presented by Fasken.
Louis Cole's "Beyond Borders (Chapter 1)" – Festival Honor presented by Buffer Festival.
Sura Mallouh's "Sedra" – Excellence in Inspiration presented by YouTube.
SWOOP's "Lost in Darkness" – Excellence in Cinematography presented by MAG-Z.
Whitney Avalon for "Don't Be A…" – Excellence in Sound, Score, or Music presented by Epidemic Sound.
Zach Ramelan for "Blinders" – Canadian Excellence Award presented by Encore+.
Read also: Buffer Festival Toronto 2017

Collaborations or become one of us(邀稿、合作、或加入「時尚高潮的團隊):
賴 (Line)ID:
Tinkeebellezza
( 沒有 @,"T"大寫,要傳訊息才看的到哦!) Line App ID: Tinkeebellezza ( Capital "T," without @, please send us a message, so we don't miss you!)
 https://line.me/ti/p/Riv8JfyrwU
Email: fashionecstasytv@gmail.com 電話/ WhatsApp: (+886) 958771010
追蹤&按讚 / Connect with us:
FB (Facebook):
http://www.facebook.com/fashionecsta
追蹤:
@FashionEcstasy
( I G、 推特) follow:
FashionEcstasy
(Instagram & Twitter) 還有:
@Tanya.fashionecstasy
(IG)
@HsuTanya
(Twitter) Also:
@Tanya.fashionecstasy
(Instagram) &
@HsuTanya
(Twitter) Youtube YT訂閱 /  Please subscribe to our Youtube channel:
https://www.youtube.com/user/FashionEcstasydotcom?sub_confirmation=1