Pumpkins After Dark Halloween Drive-in Event 2021 – Canada's Largest Outdoor in-Car Safe and Fun Event Supporting Canada's Frontline Workers / Pumpkins After Dark萬聖節車遊活動! 加拿大最大的戶外安全待在車內和有趣的活動,支持加拿大的前線工作人員!
Pumpkins After Dark Halloween Drive-in Event! Canada's Largest Outdoor in-Car Safe and Fun Event Supporting Canada's Frontline Workers!
Pumpkins After Dark萬聖節車遊活動! 加拿大最大的戶外安全待在車內和有趣的活動,支持加拿大的前線工作人員!
(article &photos by Laura Drexler)
BIO:
Laura Drexler
Laura is a teacher and musician with hobbies in photography, nature and the outdoors)
We got to preview the Pumpkins After Dark, Drive-Thru Event 2021, and it did not disappoint. There were over 200 displays viewable from your car, featuring 8,000 intricately hand-carved pumpkins. The event is a safe and fun way to enjoy Halloween festivities. This year over 70% of brand new displays are there to be discovered.
As you approach the Country Heritage Park in Milton, Ontario, staff with red light wands will direct you to the line-up lanes. While waiting in the car in the parking lines, the setup festively entertained us already. In the distance, you could see and hear a giant animated Jack-O-Lantern singing. Strings of lights line your path as the staff places big stickers over your headlights to dim the scene. You see by the lane lights and tail lights in front of you.
We tuned into 89.1 FM on our radio for music and commentary about the experience.
The Illuminated Jack O' lanterns were great, breathing a fog of dry ice scattered throughout the route, creating a theatrical effect.
Beyond the initial large animated jack-o'-lantern, the first view is of monsters like Frankenstein, witches and goblins. All displays are illuminated and carved from multiple pumpkins.
In the "Jurassic Zone," we were greeted by a Tyrannosaurus Rex and a Triceratops, the most realistic replicas of any dinosaurs. The ample creature theme continues with Godzilla and King Kong on the Eiffel Tower preceding the superheroes, castles and coffins.
As we drove by, Stormtroopers, Droids and spaceships appeared. Darkness set the mood as we approached a spooky graveyard. There was a colourful car show with many favourite horror movie vehicles in 3D.
***Spoiler: For those hoping to see the Ghostbusters car Ecto-1 – not this year, but there are many more new displays complete with fantastic sound effects.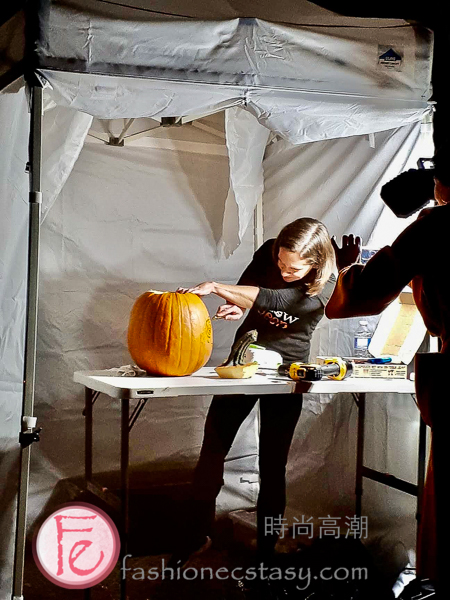 It was so interesting seeing the pumpkin carvers do their designs by hand. This year, Kara, the Pumpkin Queen of Cambridge, is seen doing her craft. There are three full time-carvers, and it can take up to 200 hours to carve the larger sculptures!
Another animated jack-o'-lantern turns and greets you as you begin the big turn towards the "Rock and Roll" section. Any wax museum would be thrilled with these likenesses of Elvis, Ozzy Osbourne, Alice Cooper and Kiss. The "Carnival of Horrors" is a full-colour intricate wall of exquisitely carved and coloured panels. The Day of the Dead pumpkins and the most intricate Alice in Wonderland would shame any comic or storybook illustrations. Cinderella's pumpkin carriage is pulled by a horse reminiscent of the CNE's silk road figures. Fortunately, we captured the carvings of Humpty Dumpty before his fall. As you follow another bend in the path, Halloween fairy tales continue as the witches cackle at you from a green dry ice bubbling cauldron.
Spiders of all sizes and a pumpkin-headed grim reaper greet you before the next canopy. Don't neglect to look up and to your right. There are so many different Jack o' lanterns, each with a unique expression. Then you'll be transported into a world under the sea with sea creatures like sharks, whales, turtles and jellyfish that are larger than life-size. Pirates, spooky flowers, animals of the Chinese New Year and pumpkin bees proceed the famous fog-breathing dragon that was a highlight of past years. This year the dragon did not breathe fire, and you are quickly marshalled through. Military figures guard the retro-inspired pumpkin scoreboard. The barrel of monkeys and farm animals will look familiar as you make a turn to approach the exit path.
Keep the radio on but low as many sound effects will surprise you along the route.
The Greek mythology section lights up in green, red and yellow. Photos cannot do justice to the live view of the Egyptian tombs. This artwork was so accurate that it is museum-worthy!
Lights shine along with the characters both in front and behind, and for a moment, you think the Vikings might be even more 3D than the anime characters.
Pumpkins After Dark's final displays are a tribute to first responders: fire and masked medical people In living colour with blue masks, gowns and a red heart. It was genuinely touching.
Budget at least 30 minutes to do the drive-thru. The fun takes place from September 17th to November 7th, after Dark, Thursday to Sunday nights, and two weeks leading up to Halloween, seven days a week.
Be sure to plan ahead and purchase tickets in advance as there are no tickets sold on-site at the event.
Tickets are priced per car and range from $ 39.00- $89.00, depending on the number of guests in the vehicle.
A portion of this year's proceeds of the charity event will go to Joseph Brant Hospital in support of our frontline healthcare workers and Starlight Children's Foundation Canada. Last year's fundraising event raised over $25,000 ($20,000 to Country Heritage Park, including $5,000 to their food bank), as well as $3,000 to Starlight Children's Foundation Canada.
For more details about Pumpkins After Dark Halloween Drive-in Event, Canada's Largest Outdoor in-Car Safe and Fun Event Supporting Canada's Frontline Workers, please see their website at: https://pumpkinsafterdark.com/ontario/.

Collaborations or become one of us(邀稿、合作、或加入「時尚高潮的團隊):
賴 (Line)ID:
Tinkeebellezza
( 沒有 @,"T"大寫,要傳訊息才看的到哦!) Line App ID: Tinkeebellezza ( Capital "T," without @, please send us a message, so we don't miss you!)
 https://line.me/ti/p/Riv8JfyrwU
Email: fashionecstasytv@gmail.com 電話/ WhatsApp: (+886) 958771010
追蹤&按讚 / Connect with us:
FB (Facebook):
http://www.facebook.com/fashionecsta
追蹤:
@FashionEcstasy
( I G、 推特) follow:
FashionEcstasy
(Instagram & Twitter) 還有:
@Tanya.fashionecstasy
(IG)
@HsuTanya
(Twitter) Also:
@Tanya.fashionecstasy
(Instagram) &
@HsuTanya
(Twitter) Youtube YT訂閱 /  Please subscribe to our Youtube channel:
https://www.youtube.com/user/FashionEcstasydotcom?sub_confirmation=1